Short Answer: Doors on your metal building are optional, but they are an important decision to make. This blog can assist you with your decision on which door to purchase. As a customer, the essential thing to remember is to choose the door that will work best for you! 
There are differences to consider when purchasing a steel or vinyl door. Both have their own set of benefits and drawbacks. Steel and vinyl doors, when properly maintained, can last for decades. Additionally, these doors can suit any building style, from traditional to modern. Here are five factors to consider when selecting a door 
Material 
Durability 
Color options
Price
What are they? 
When deciding which door fits your needs, you should take a look at their similarities and differences. Whichever door you choose, it will provide you with numerous advantages!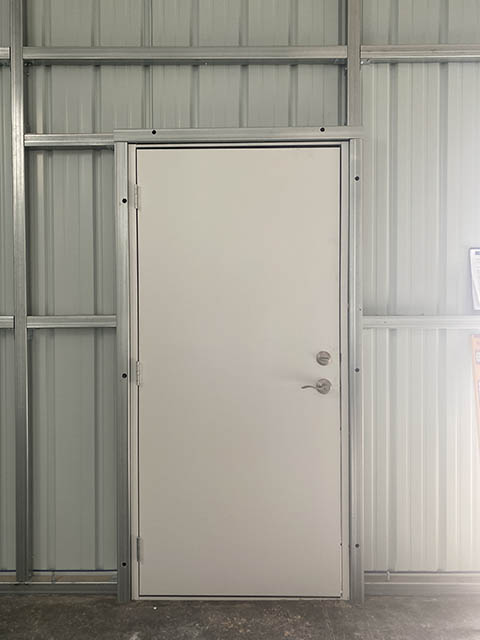 The steel door is 36 inches wide by 80 inches tall with a 1-3/4-inch-thick panel and is pre-hung. These measurements are a standard size, but other steel door sizes are available depending on the vendor. Additionally, the door is made of a 24-gauge steel skin with a polyurethane core.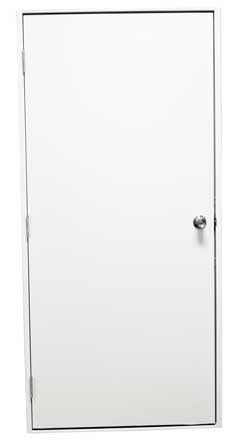 The vinyl door features an aluminum welded frame and is also pre-hung. The measurements of a standard vinyl door are 36 inches wide by 80 inches tall, but can also come in other sizes depending on the vendor. Vinyl doors will not rust, dent, rot, or peel like other varieties of doors. This is due to being made of polyvinyl chloride plastic which makes it more durable. The door includes a plat mounting flange, and the hinge is on the left-hand side. 
Material
The material of your door will be a crucial deciding factor. Steel and vinyl are common materials used in door manufacturing. Vinyl doors can be resilient and lightweight which is great because it makes the installation process a lot easier. On the other hand, steel doors are known for their strength and durability. Which helps the door survive the elements for numerous years. Due to steel doors being so dependable, most providers offer a lock installation option. Both doors have high installation properties. The installation in the doors helps in the energy efficiency of any building. If you use either door, then you are also contributing to a healthy environment since both door materials are eligible for recycling.
Durability
When it comes to durability, "protection" comes to mind. While having a polished appearance is important, you should also consider durability. Steel doors are known for their resistance to shrinking, swelling, and warping. A steel entry door will provide protection due to being made of a thicker more protective material. This stronger outer shell makes it difficult to damage. However, steel doors are more prone to denting and dinging. Whereas, scratched and scuffs are less evident on vinyl. Vinyl doors are both damage-resistant and energy-efficient. They are resilient despite extreme temperatures and do not peel. A vinyl door requires less maintenance which means you don't have to perform regular repairs or intensive upkeep. Therefore, to preserve the overall look and integrity of the doors. The doors may require routine dusting and cleaning!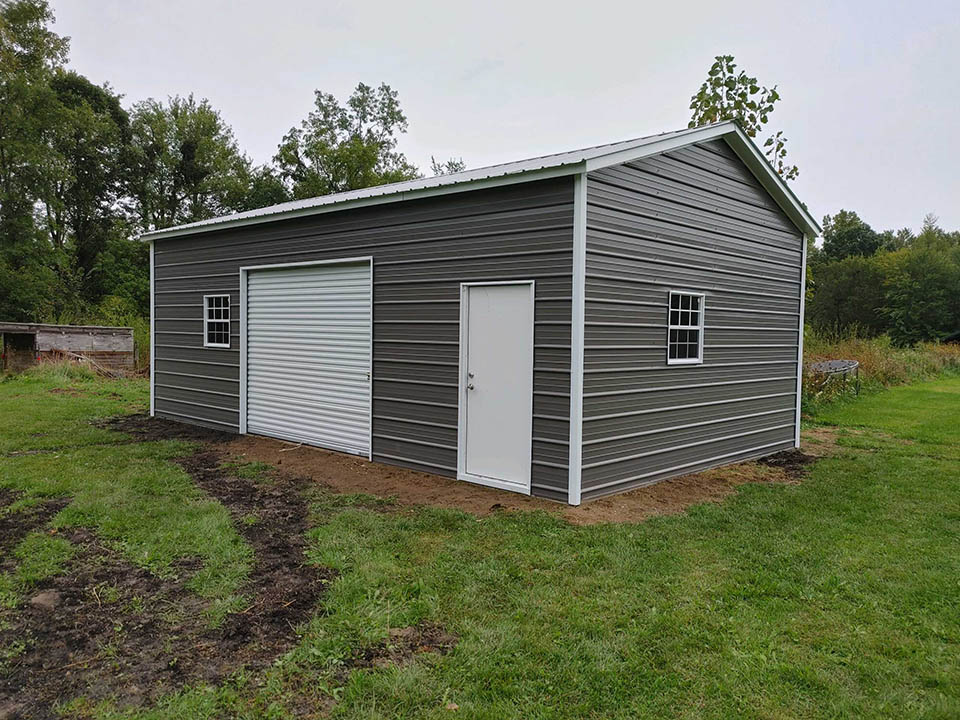 Color Options 
Both doors have a clean, attractive design and a variety of customizing color options. Steel doors can be purchased in popular colors such as white, brown, clay, and bronze. Vinyl doors, on the other hand, have fewer color selections. Vinyl doors are typically only available in white. If you want something more dramatic, you'll probably have to go for a steel door. For steel doors, most companies charge an additional price for color options. Both add to the clean, sharp appearances of your metal building. However, a color door can match the aesthetic of your building and gives it a finished look making it more noticeable. Some clients have asked if painting their entry door is a possibility. Absolutely many customers have painted their doors after installation making your color options endless! 
Price 
The pricing is another important consideration, primarily if you are working within a budget for your metal building. Vinyl is a highly cost-effective material, especially considering it's sturdy and lightweight. Vinyl doors are also more resistant to rust and damage, making them a superior long-term investment. However, if security is your priority, go with a steel door due to it being made of a higher-quality material. Due to the dependability a steel door provides the price increase usually comes with installation charges. Many customers, however, consider the upfront one-time expense to be well worth it in the long run. Due to the steel doors low maintenance and long-lasting features. 
Conclusion
Throughout this blog, we have covered topics such as durability, price options, and color options. By reading over the differences, you may determine which door fits your building better. Both doors offer advantages and faults, however customers frequently choose both entry doors. Whatever door you choose, will provide you with numerous advantages and give your metal building a finished look! 
Have questions about what is the comparison of steel building vs a traditional pole barn check out our blog! 
MW Steel Buildings, Inc. 
(877) 368-8244
For more content, follow us on: