Short Answer: A few common steel building problems and solutions you'll run into can include condensation, noise, and water seepage. Simple solutions you can look into can be CondenStop, spray foam insulation, and sealant.  
As you start to do your research on metal buildings, you may come across a few problems that will catch your attention. A few of these issues may include such things as corrosion and low insulation. Therefore, you may be a bit hesitant to go with a metal building. However, this blog will help you understand the most common steel building problems and solutions. Speak to your contractor about any other possible issues you may run into and solutions on how to solve them!
Condensation
One of the biggest steel building problems, if not the biggest, is visible condensation on the interior of the building. Steel buildings are prone to sweat due to the changes in the environment. If you don't treat this issue, after a long period of time, the condensation may lead to other problems such as corrosion. Therefore, we highly recommend CondenStop, an anti-condensation solution. This solution offers many different benefits such as condensation absorption, reduces sound, and acts as a flame retardant. Click here for more info on our CondenStop. Another quick solution is to add ventilation to allow fresh air to enter and move through the building. However, you should not solely rely on vents to eliminate condensation.  Click here for more info on our vents.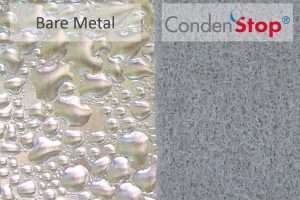 Insulation Issues
An issue you may run into as you choose your insulation method is how certain insulation methods don't work well with big metal buildings. For example, we do not recommend roll-out insulation for larger buildings. This is because roll-out insulation is only for minor temperature control in small units. A solution here is to go with closed-cell spray foam insulation for proper insulation of your steel structure. However, with spray foam insulation we recommend to go with closed-cell as to minimize expansion and avoid any shifting in the framework of the building. For more info on insulation options for steel buildings, click here.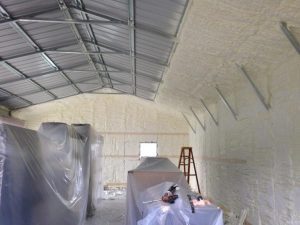 Low noise barrier- "Tin Can effect"
When you're standing inside your metal building you may notice it can get pretty noisy. For example, during a rainstorm you can hear the raindrops echoing against the steel sheeting. This is sometimes referred to as the "tin can effect". A solution to this issue is investing in spray foam insulation, which increases the rigidity of the building and acts as a noise barrier. Again, we highly recommend the close-cell spray foam, so the foam doesn't expand and shift the framework of your building. Another solution to the "tin can effect" can also be CondenStop, an anti-condensation solution, since it offers properties that reduce noise from both the inside and the outside of the metal building. Click here for more info on our CondenStop.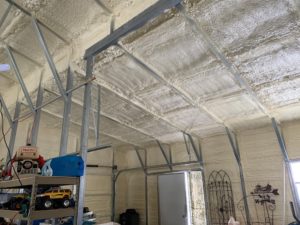 Rusting (corrosion)
Do you worry about dealing with rust on your steel building? A common problem customers have with steel is how it's prone to corrosion. However, if steel is galvanized then it has a protective coating that acts as a corrosion resistant. A simple solution to rusting is to speak with your contractor and assure your building is constructed with galvanized steel!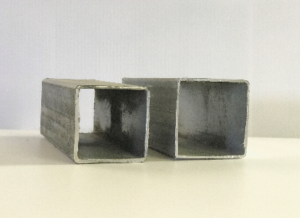 Light & insects entering structure
A common question we receive is whether light and small pests can get into the building. This can happen due to the ridges on the sheet panels. When you step inside your metal building, you can see light enter through the areas where the sheet panels meet. For example, the corners of the structure. Small pests such as mice or birds can also enter through these gaps. A solution to this pesky problem is to add foam gap enclosures to your building. The gap enclosures form to the ridges on the panels and block out any light and gaps where small rodents may try to enter. Click here for more info on our foam gap enclosures.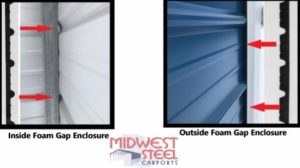 Water seepage underneath base rail
An issue you can come across is water seeping underneath your base rails and entering the building. This can happen due to a couple of reasons, including making your slab too large and not adding a slope edge offset. For standard steel buildings, below 30' wide, we recommend to add 1" extra (.5" all the way around). However, for larger steel buildings, over 30' wide, we recommend adding 2" extra (1" all the way around). If you add more than recommended, you risk water gathering on the slab and seeping underneath the base rails, especially if there is no slope edge offset to redirect the water away from the building. An effective solution to this problem is to invest in the Emseal and concrete sealant package. All MW steel buildings include a complementary sealant package for any building 32' +. This includes a foam gasket sealant, a sponge-like material with an adhesive backing, and the concrete polyurethane sealant. Click here for more info on our sealant.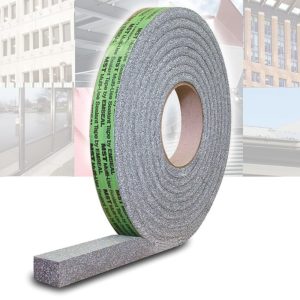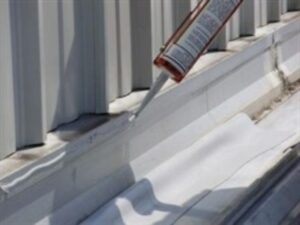 Snow fall in front of side-entry
One thing to keep in mind when purchasing a side-entry metal garage is where the snow and debris will fall. A problem you can run into is the snow/debris sliding off the roof and onto the sides where your doors are. Consequently, when you try to enter or exit your building, you'll have to step over any debris that's fallen off the roof. This issue could be very dangerous as you run the chance of having snow or ice fall near or on someone standing by the building! A quick fix to this problem is to add snow guards to your metal roof. The purpose of snow guards is to slow the fall of the snow. This in turn stops the snow from falling in front of your opening all at once and cause serious damage.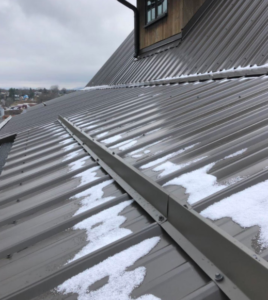 Mobile home service door visible base rail
One factor to keep in mind when shopping for a steel building is that the building has a base rail that sits above ground. Therefore, when you open your service door, you'll have to walk over the base rail to enter the building. This base rail may be seen as a tripping hazard by some. One solution to this issue is to have the contractor frame out the building and then you choose and install your own service door after installation. Another solution is to go with a steel service door, which is pre-hung, in turn eliminating the need for the steel frame (base rail). Click here for more info on our steel door.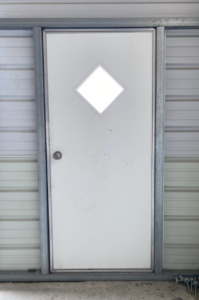 Third party overhead doors
A popular option you have for accessories is to go with a frame out and then you install your own accessory. However, keep in mind that your accessory must be compatible with metal buildings. For example, your overhead door should have steel jambs to accommodate the steel frame work that is either 14 gauge (2 ½ inches by 2 ½ inches) or 12 gauge ( 2 ¼ inches by 2 ¼ inches) steel tubing. Check in with your contractor prior to purchasing your accessory to make sure it is compatible with your metal building. 
MW Steel Buildings
(877) 368-8244
For more content, follow us on: